The symptoms and severity of a Covid-19 infection vary significantly. However, it is equally important to take note of the possible cardiorespiratory, renal and haematological complications that can occur post-recovery. As such, caution is recommended when an athlete resumes physical activity after a Covid-19 infection.
To begin, the following criteria should be met before an athlete proceeds to return to play:
10 days of rest and 7 days symptom-free
No longer under treatment/medication
Able to complete activities of daily living and walk 500m on flat ground without excessive fatigue or breathlessness
Thereafter, the following graduated return to play protocol can be used to minimise the risk of health complications after an infection.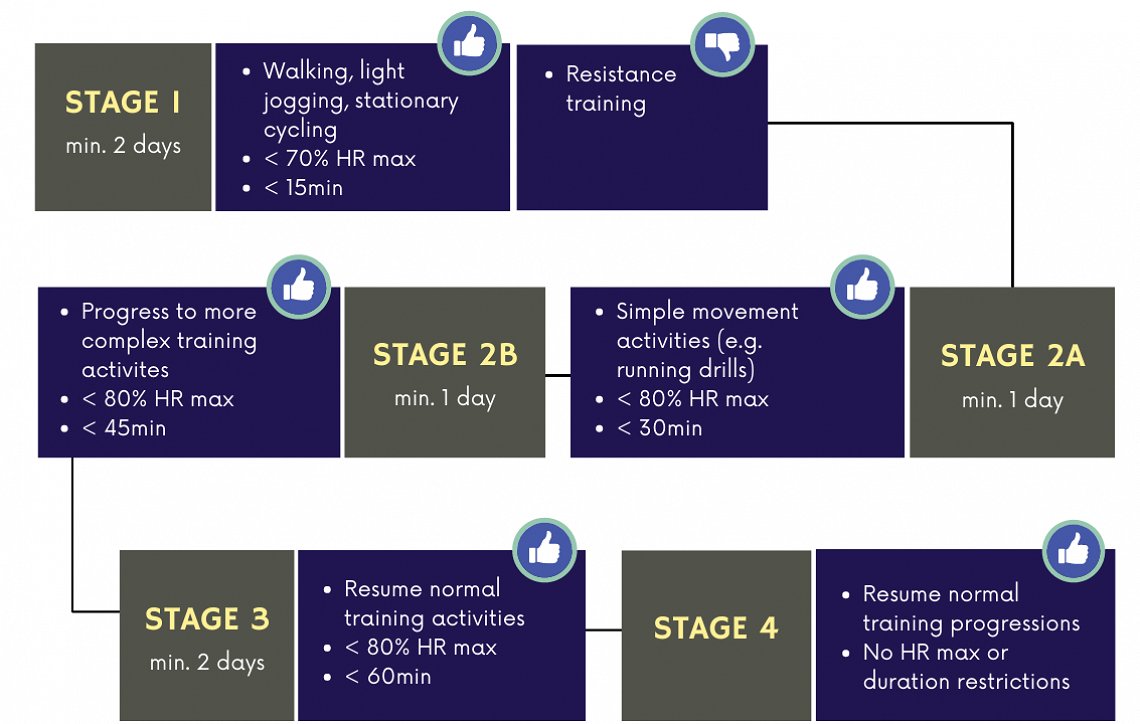 During this transition period of return to play, close monitoring of the following is recommended:
Resting heart rate
Rate of Perceived Exertion
Sleep, stress, fatigue and muscle soreness
Psychological Readiness to Return to Sport (PRRS)
Should there be a significant increase in any of the above 4 measures, the athlete should return to the previous stage and progress again after 24 hours of rest without any of these symptoms. Depending on the sport of choice, returning to play can take between 1 to 3 weeks, especially aerobic sports.
DISCLAIMER: This return to play protocol applies to people who have suffered from mild to moderate Covid-19 symptoms. Patients with severe or prolonged Covid-19 symptoms, or other comorbidities (e.g. diabetes, cardiovascular disease, etc) should be referred for further medical assessment and investigations.
References:
Elliott N, Martin R, Heron N, et alInfographic. Graduated return to play guidance following COVID-19 infection British Journal of Sports Medicine 2020;54:1174-1175.