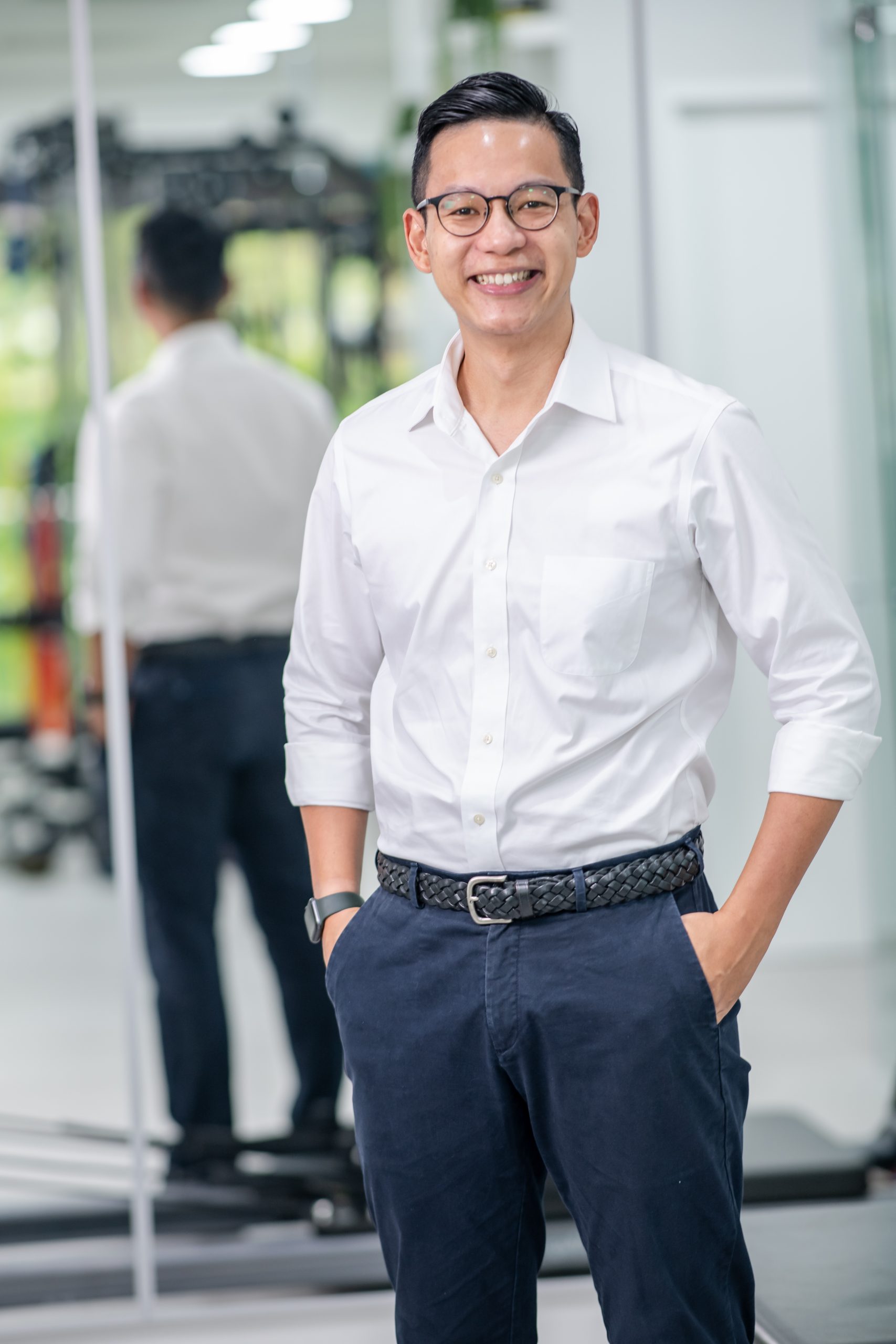 Derek Lee
Derek is a Physiotherapist at PhysioX. He graduated with First-Class Honours from University of Queensland, Australia under the SingHealth Scholarship programme. He spent 6 years at the busiest hospital in Singapore, the Singapore General Hospital (SGH) where he cared for patients in the Rehabilitation Unit, the Burns and Plastics Unit, and in Orthopaedic Surgery.
Derek specialises in the treatment of musculoskeletal injuries and has a special interest in treating patients with hip, knee and ankle injuries. He is a firm believer in education, never being satisfied with status quo, he constantly upgrades his skills by attending courses around the world.
In his time at SGH, he has presented his work at various meetings such as the 40th Singapore Orthopaedic Association Annual Scientific Meeting, the 2017 SingHealth-Duke-NUS Surgical and Anaesthesia Congress and the 2017 Team Excellence Innovation and Quality Circles Assessment. His team was awarded Gold for his work in reducing the length of stay post total hip replacement via the direct anterior approach.
Derek constantly evaluates ways of innovating for better patient care. He was part of the winning team at the inaugural 2017 SingHealth Hackathon with a game-based application which aims to aid in the rehabilitation of patients post total knee replacement. He also had the opportunity to partner various adult reconstruction surgeons to develop the Osteoarthritis Mobile Application and spearheaded the protocol for early ambulation of Total Hip Replacement via the Direct Anterior Approach. (this was strongly covered in various media outlets).
Derek has also given various ergonomic and manual handling consultancy talks at various organisations. They would include AMGEN Manufacturing, Meiden Singapore, KONE Elevators and the Singapore Institute of Technology. He was also part of the team that provided physiotherapy coverage in the 2016 ASEAN Paralympics Game held in Singapore.
He is a father to three beautiful kids and a husband to a supportive wife. In his free time, he enjoys a good swim, cycle and taking his camera out for a shoot. Derek finds joy partnering in his patients' recovery as they achieve their functional goals.
You can find Derek at our Orchard clinic.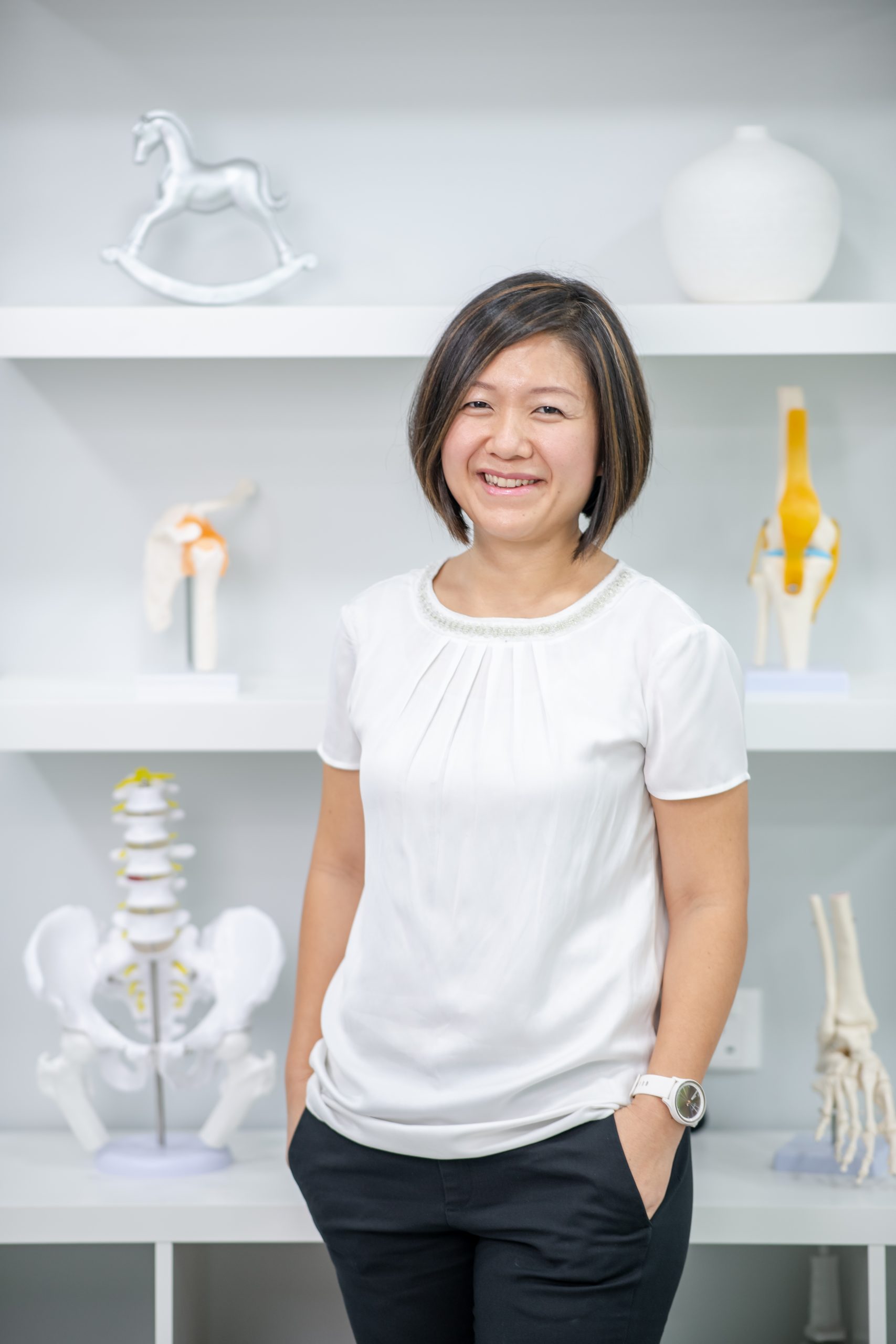 Esther Lan
Esther has a Masters in Clinical Physiotherapy (Manipulative Therapy) from Curtin University and earned her Bachelor of Physiotherapy from the University of Melbourne. She is Kinesiotape trained.
Esther has more than 15 years of experience as a Physiotherapist. Gaining valuable experience working in both KK Women's and Children's Hospital (KKH) and the most established hospital in Singapore, the Singapore General Hospital (SGH). In her earlier years as a Physiotherapist, she rotated between various inpatient and outpatient settings ranging from orthopaedic, musculoskeletal, medical to geriatric units. She has accumulated experience working in the Musculoskeletal Outpatient setting for more than 15 years. Esther has been instrumental in PhysioX as she continues to guide and mentor the team to have their practice grounded in solid Physiotherapy evidence and practice. Though a Senior in PhysioX, Esther never stops learning, seeking out the 'Whys' and the 'Hows' of our Practice, sharpening us as we grow. 
Esther doesn't believe in short-gap measures but works hard to get to the root of the problem, addressing the contributing factors that is leading to your experiencing pain. She never stops till your concerns are addressed. 
Esther specialises in treating patients with shoulder injuries. She believes in a collaborative and holistic approach with every patient to help them achieve their individual goals. She also has a special interest in treating patients post adult reconstruction and with knee injuries, both surgical and non-surgical. 
In her free time, she hangs out with her three boys and enjoys her regular jog, HIIT and yoga workouts. She loves a good cup of coffee and an occasional baking session. If you're an early bird, you will find Esther cycling on the roads well before dawn breaks! Chat to her about it and you might end up cycling with her as well! 
You can find Esther at our Orchard clinic.
Jansen Lee
Jansen is our Principal Physiotherapist who has a Masters in Sports Physiotherapy as well as a Bachelor of Physiotherapy from Curtin University, Australia. Jansen was also the Head Physiotherapist of Netball Singapore National Team.He started his Physiotherapy career in the most established hospital in Singapore, the Singapore General Hospital (SGH). He has accumulated more than 6 years of experience, rotating through various settings such as the burns, geriatric, musculoskeletal units. His experience has set him up well to be holistic in the management of the patients under his care.Jansen specialises in treating patients with sports and musculoskeletal injuries. His passion and interest in sports injuries sees him working widely and extensively with a variety of sports and sports injuries from a varied sporting population, ranging from the weekend warrior to the elite Olympian.He strongly believes in a bio-psycho-social approach with every patient – addressing not only the biomechanical problems but also the psychological and social aspects surrounding an individual. He uses a combination of manual therapy techniques and tailored exercise programs to ensure that each individual achieves the best possible outcome. ⠀⠀ Outside of the clinic, Jansen spends his free time playing badminton, squash, ultimate frisbee, soccer and going to the gym. He also serves actively with youths in his local church community.You can find Jansen at our
Bukit Timah
clinic.
Liew Yee Ching
With a Bachelor in Physiotherapy with honours, Yee Ching spent 6 years early in her career, being trained and groomed at Singapore's premier tertiary hospital, the Singapore General Hospital.
At the Singapore General Hospital, she has had the immense privilege and opportunity to work in a myriad of Physiotherapy specialities, with cases whose complexities surmounts most. She has, under her belt, experience in the Cardiopulmonary, Neurology and Orthopaedic rotations. She has had the opportunity in Musculoskeletal Physiotherapy Residency Programme where she was part of a select group of Physiotherapists, to undergo advance training to hone her skills in the various sub-specialties of Musculoskeletal Physiotherapy.
In her fruitful years spent at the Singapore General Hospital, she took on, with aplomb, the role of a Clinical Educator for Physiotherapy students from the Singapore Institute of Technology, despite the demands to caring for her patients.
As our Senior Physiotherapist, Yee Ching believes in collaborating with clients in working towards their rehabilitation goals, facilitating and empowering them to taking charge of their condition with individualised treatment plans and this is evident as she was awarded the Service Quality Award in 2019.
Besides taking immense pride in her work and seeking continuous education to keep abreast with the latest updates in the area of Musculoskeletal Physiotherapy, Yee Ching loves a good read from a novel and practicing yoga and Pilates.
You can find Yee Ching at our Orchard clinic.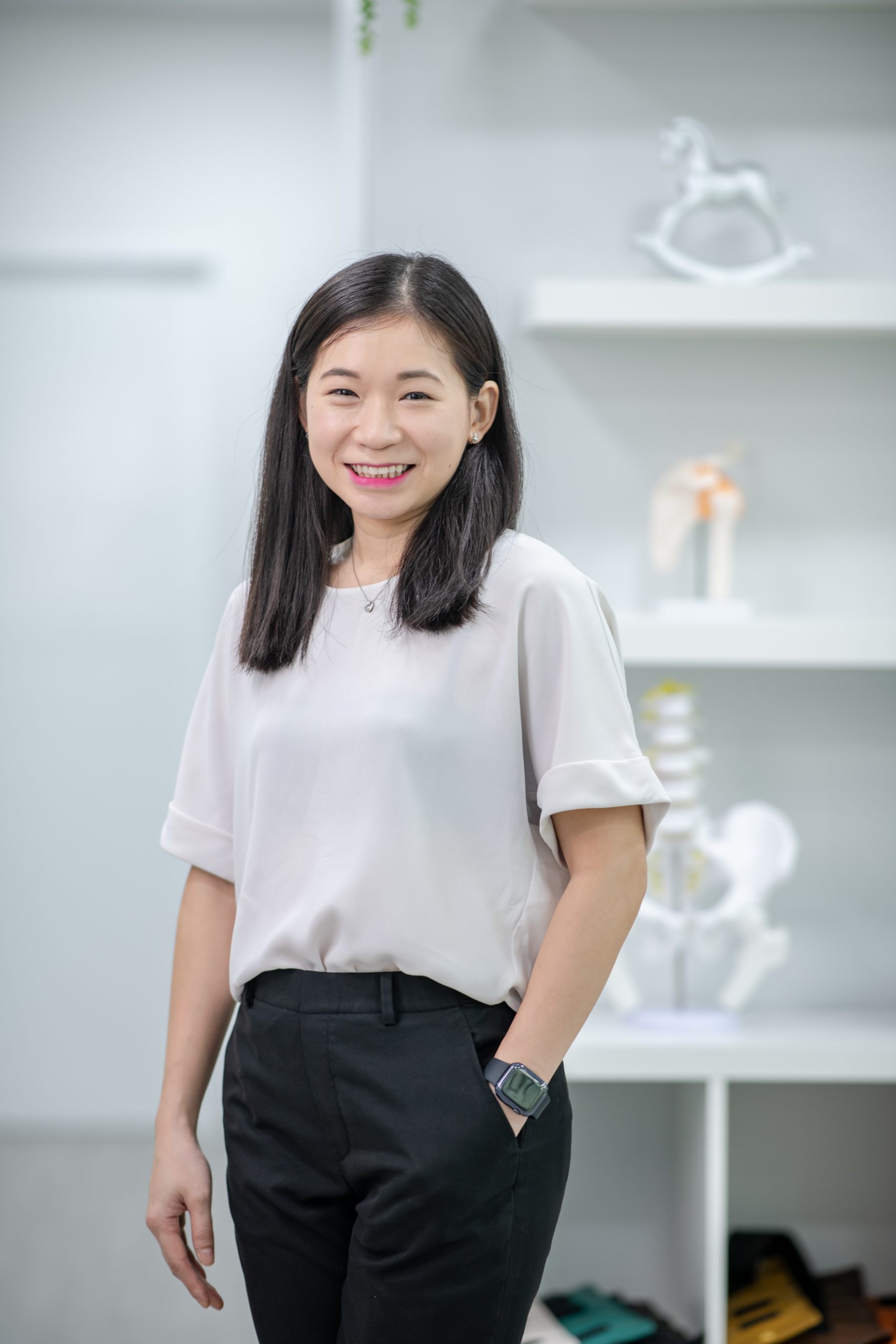 Sunny Tam
Sunny graduated with First-class Honours in Physiotherapy from the University of Queensland, Australia. Having worked at Singapore's premier tertiary healthcare institution, the Singapore General Hospital (SGH), Sunny was exposed to the breadth and depth of complex cases that presents to the hospital.
She has been groomed and trained meticulously in various rotations that has put her in good standing for the care of her patients. From her in-patient Orthopaedic rotation to the out-patient Sports and Musculoskeletal clinics, she understands and appreciates the continuum of care for this group of patients.
Because of these experiences, Sunny is able to understand the intricacies of Orthopaedic surgery and its implication in out-patient care. She is also a clear and proficient communicator to the stakeholders in the journey of care, in particular, to both the patient and the surgeon in charge. With this skill and knowledge, patients under her care can have full assurance that they will be well-taken care of with all necessary precautions and care taken.
In her time in SGH, Sunny was handpicked and given the privilege to train with the SingHealth Core Residency in Musculoskeletal Physiotherapy and graduated with distinction in 2020. Her competence and proficiency was recognised when Sunny was awarded the SingHealth Quality Service – Service with a Heart Award, a testament to her care and empathy. She further proved her skill as she took on various roles, with much aplomb, as Sports Service co-lead and as a clinical educator to budding Physiotherapists.
Never one to stop learning, Sunny continues to upgrade her knowledge base rigorously, demonstrating her up-to-date evidence in Physiotherapy care, all so that her patients may receive ethical, appropriate and necessary care.
Sunny is a specialist in sports related injuries – both operative and non-operative management especially with knee injuries including ACL injury rehabilitation, running related injuries and neck pain disorders. As a firm believer that every individual's presentation is unique and rehabilitation needs to be tailored to one's needs and goals and a strong belief in patient empowerment and genuine care – educating clients and being partners in their rehabilitation journey, it gives Sunny great joy to be able to help patients return to the activities they love. Sunny aspires to be an expert clinician in sports-related injury rehabilitation of any level and to promote health & wellness and injury prevention to the larger community.
In her time away from work, Sunny walks the talk by maintaining a healthy lifestyle through various group fitness classes, yoga and Pilates, strength training, trekking and running. Sunny enjoys a challenge by trying out new sports like tennis and enjoys exploring the more peaceful and therapeutic aspect of life through music.
You can find Sunny at our Paya Lebar clinic.
Tan Sin Thien
Sin Thien has a Masters in Musculoskeletal Physiotherapy from Curtin University, Perth, Australia. She is also a Certified Mulligan Practitioner (CMP). She is our Principal Physiotherapist at PhysioX.
She has over 9 years of experience as a Physiotherapist working in both Singapore General Hospital (SGH) and SingHealth Polyclinics. In her extensive years of training, she was rotated through many inpatient and outpatient settings ranging from Orthopaedics, Geriatrics, Oncology to Musculoskeletal units.
With her expansive knowledge in Physiotherapy and passion for education, Sin Thien was also appointed as a SingHealth Associate in education as she undertook the challenge in nurturing young budding Physiotherapists.
When it comes to patient care, Sin Thien believes in the active participation of her patients in providing holistic care. Instead of merely alleviating pain, she aims to educate her patients to understand the source of their pain. Sin Thien's personable and out-going persona puts you at ease immediately. She strives to understand the cause of your concerns and she is never one who give 'No' or 'I don't know' as an answer. She seeks to understand your functional demands and needs and works hard to help you achieve your goals. 
In her free time, she enjoys going to the gym, spinning, baking and gardening.
You can find Sin Thien at our Paya Lebar clinic.
Joanna Lim
Joanna obtained her Diploma in Occupational Therapy with Merit from Nanyang Polytechnic in 2006. Under the MOH Health Science Scholarship, she graduated from La Trobe University (Melbourne, Australia) with a Bachelor's degree in Occupational Therapy (1st class Honours) the following year. Upon graduation, she worked in Changi General Hospital and Sengkang General Hospital, specializing in hand therapy and upper limb rehabilitation, as well as ergonomics consultancy.
Having more than 15 years of experience in this field, Joanna has worked with hand surgeons and orthopaedic doctors in both inpatient and outpatient settings, providing quality therapy services for clients with a variety of hand and upper limb conditions, including fractures, sprains/strains, tendon injuries, nerve injuries, repetitive strain disorders and complex trauma injuries. During her tenures at CGH and SKGH, Joanna was a Senior Occupational Therapist and held the role of Hand Therapy and Upper Limb Rehabilitation Unit Leader. She was in charge of clinical education, supervision and management of staff, manpower planning, and daily operations of the unit.
In the course of her practice, Joanna witnessed first-hand the deep impact that hand and upper limb injuries can have on people's lives as most self-care, work and leisure activities are accomplished through the use of the upper extremities. Even without an acute injury or trauma, poor ergonomics, awkward postures and overuse of the upper extremities may also contribute to the development of musculoskeletal and repetitive strain injuries. She strongly believes that good ergonomics practices often go hand-in-hand with therapeutic interventions in ensuring both a good recovery and the prevention of recurring injuries in the future.
With this in mind, Joanna pursued her post-graduate studies in ergonomics in 2015. She was awarded a Master of Science in Health Ergonomics with Merit from University of Derby (UK) and served as the Ergonomics workgroup leader during her stint at CGH. She has been extensively involved in the provision of ergonomics consultancy and workplace evaluation services, as well as the delivery of ergonomics talks, workshops and forums to corporate and public sectors.
Joanna is a firm believer in building good rapport with her clients and enjoys engaging with individuals from all walks of life. She is a proponent of client-centred care and advocacy, striving to ensure that her treatment plans are customised to the needs of each unique individual. In her free time, she enjoys spending time with her family, running, reading, travelling, as well as the occasional binge-watching of Netflix.
You can find Joanna at our Bukit Timah and Orchard clinic.