Key Points
Hip and knee strengthening holds more benefits than knee strengthening alone.
Hip and knee strengthening decreases pain and improves activity for individuals with PFPS.
There is a long term benefit of strengthening the hip and knee which is maintained beyond completing the exercise program.
Pain in the front of the knee. Where is it coming from?
If you feel pain in the front of your knee or under your kneecaps, that might be Patellofemoral Pain Syndrome (PFPS), or more commonly known as runners knee. PFPS may be felt when doing functional activities such as squatting, kneeling, and stair climbing.
PFPS is reported to develop due to multiple factors rather than specific injuries. It typically occurs over time and when physical activity increases, causing nagging aches or occasional sharp pains that can limit daily activities.
Anatomically speaking, our knee joint functions as a hinge. The knee is inclusive of 3 key bone structures, the Femur (thigh bone), Patella (kneecap), and Tibia (shin bone), enclosed within a capsule. When we straighten and bend our knees, the patella glides smoothly over the Femur within the knee capsule to allow movement without pain.
The muscle structures in our legs and hips play a part in the proper hinging of our knee joints as well. Simply put, there are muscle groups on the front, back, and sides of our thigh that act out a delicate balance in the stability of our knees.
Now, imagine if the muscles in our legs are imbalanced, it will change the angle at which our kneecap glides over our thigh bone, resulting in the unequal distribution of pressure when we bend or straighten our knees. This awry weight distribution contributes to the pain you may be feeling when you walk, climb the stairs, or squat.
What can cause pain in the front of your knee?
I'm experiencing pain in my knees, not my hips. How are they related?
Studies have observed that individuals with PFPS also present with weaker hip musculature. Our hip muscles are essential in maintaining the posture of our knees. Weak hip muscles may therefore lead to a knocked knee posture that can cause uneven weight distribution between our kneecaps and thigh bone, creating knee pain. Strengthening our hip muscles therefore decreases stress in our knees.
It has been demonstrated that the combination of both hip and knee strengthening exercises are superior to exercise programs that focus on knee strengthening only. Not only is it effective in decreasing pain, it also improves the ability to do functional activities such as stair climbing and squatting.
What type of exercises are helpful for the pain in the front of the knee?
With PFPS, an efficient exercise program is one that focuses on strengthening the knees and hips. Not only does it lessen pain, it also helps individuals return to their normal activities. A few suggested exercises are: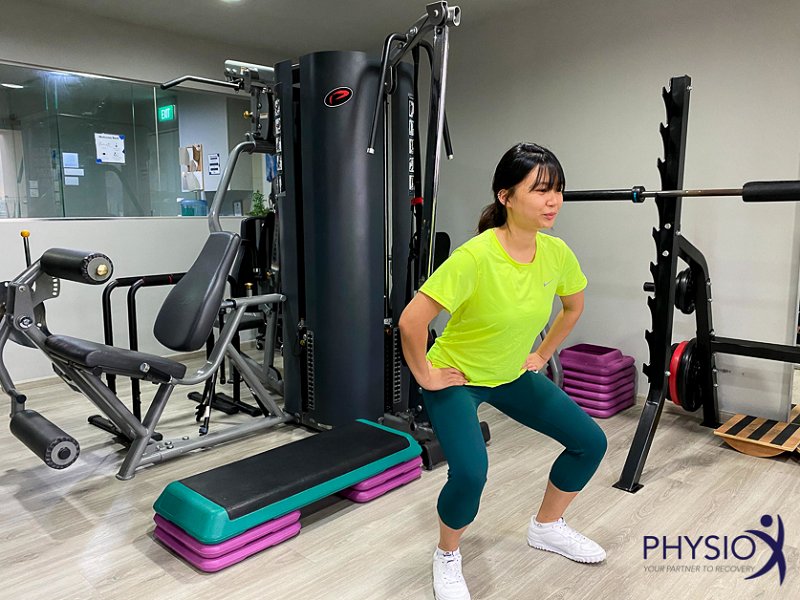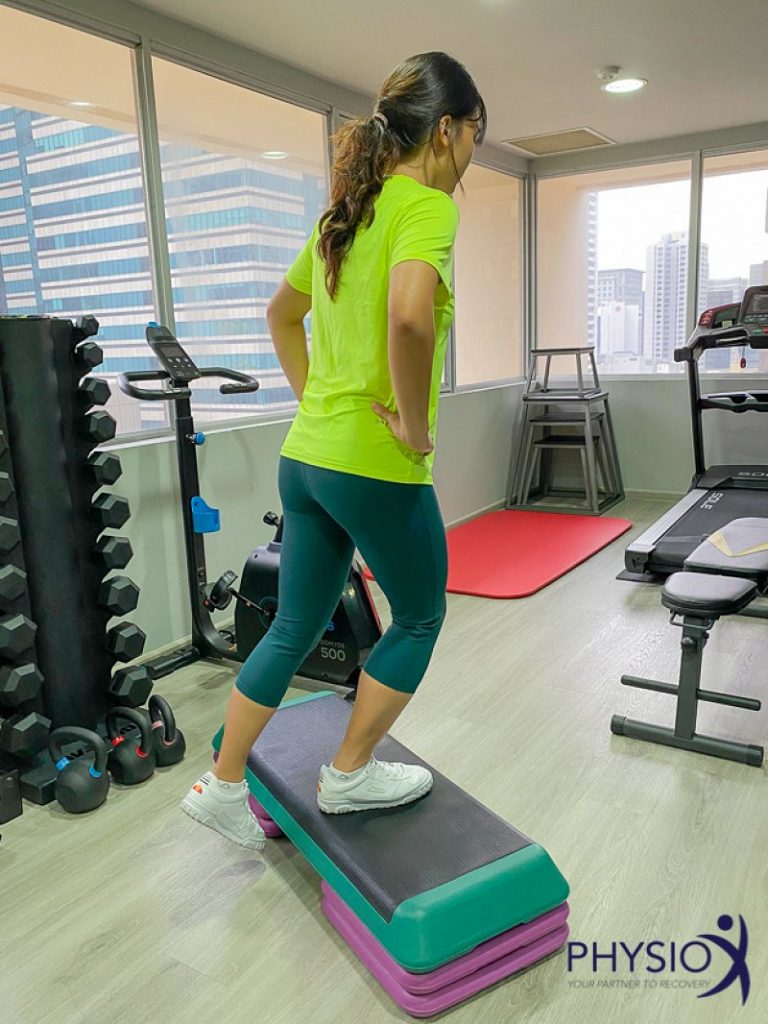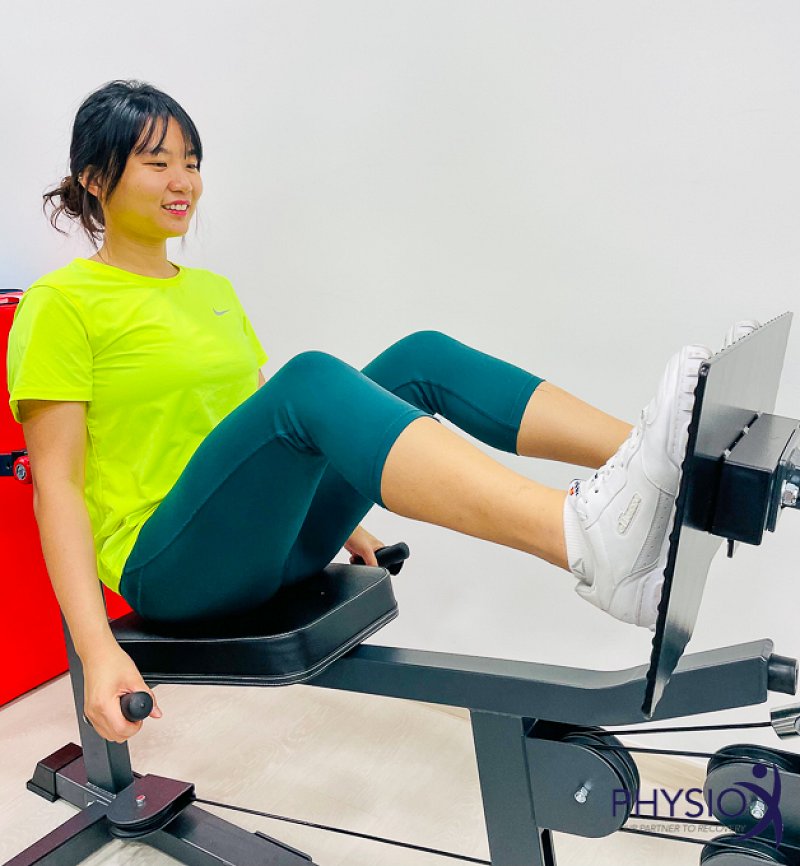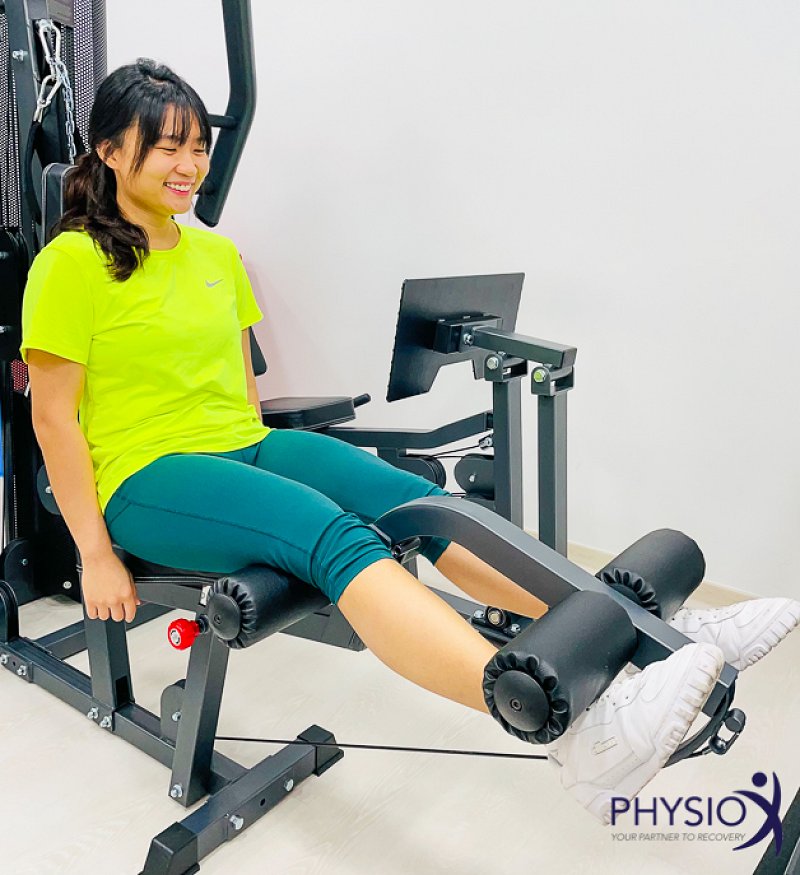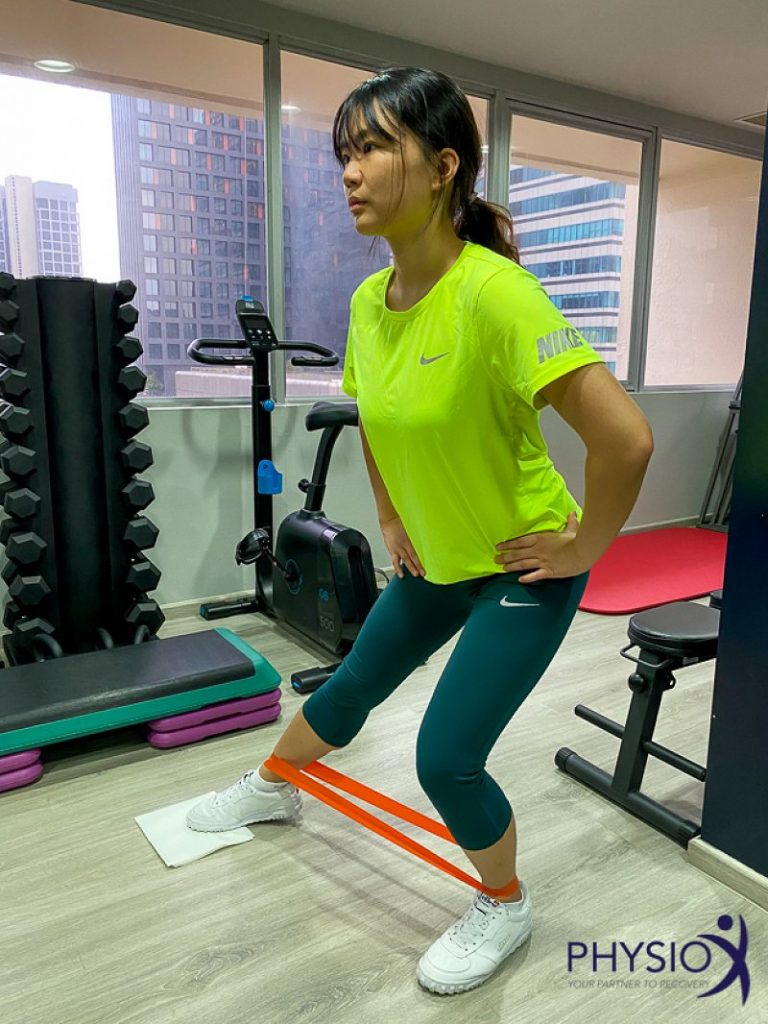 How long should these exercises be done for?
These exercises are suggested to be done 3 times a week, for a minimum of 6 weeks in order to reduce knee pain and improve activity. The benefits of hip and knee strengthening can be expected to maintain even after the 6 weeks are over.
Why should I perform these exercises?
These exercises target our hip abductors, lateral rotator, and extensors, all of which are muscle groups that around our thighs. They significantly decrease pain and improve participation in activities of daily living. The improvements in pain and activity could be attributed to weight-bearing exercises, such as squats, as it targeted aspects like pattern of movement in the lower limb, and ankle flexibility.
Another benefit to doing these exercises is that the results (pain reduction and improved activity) last, which is great for short, medium, and long term management of PFPS.
Unsure of what to do? Contact us to speak to our Physiotherapist who will be able to ascertain the source of pain and have it addressed early!
Ref:
Anterior Knee Pain: What Muscles Should I Strengthen?. (2018), 48(1), 32-32. https://doi.org/10.2519/jospt.2018.050
Nascimento, L., Teixeira-Salmela, L., Souza, R., & Resende, R. (2018). Hip and Knee Strengthening Is More Effective Than Knee Strengthening Alone for Reducing Pain and Improving Activity in Individuals With Patellofemoral Pain: A Systematic Review With Meta-analysis. Journal Of Orthopaedic &Amp; Sports Physical Therapy, 48(1), 19-31. https://doi.org/10.2519/jospt.2018.7365
DISCLAIMER: These advise and exercises should not replace the need for a consultation with a Physiotherapist especially if your condition doesn't improve. Therapeutic exercise should be carefully selected to suit your condition.