Shoulder Pain and Injuries
Diminish Shoulder Pain and Get Back to Doing What You Love
Shoulder pains and injuries are often caused by activities that require repetitive motions like tennis, weightlifting, golfing, and swimming. Unfortunately, shoulder pain often prevents us from participating in these same activities that we love.
If you're experiencing shoulder pain of any kind and unable to participate in the sports and activities you love, we want to be your guide on the road to recovery. We aim to identify the source of your pain, treat it through a tailored rehabilitation programme, and get you back to doing what you love – as quickly and pain free as possible.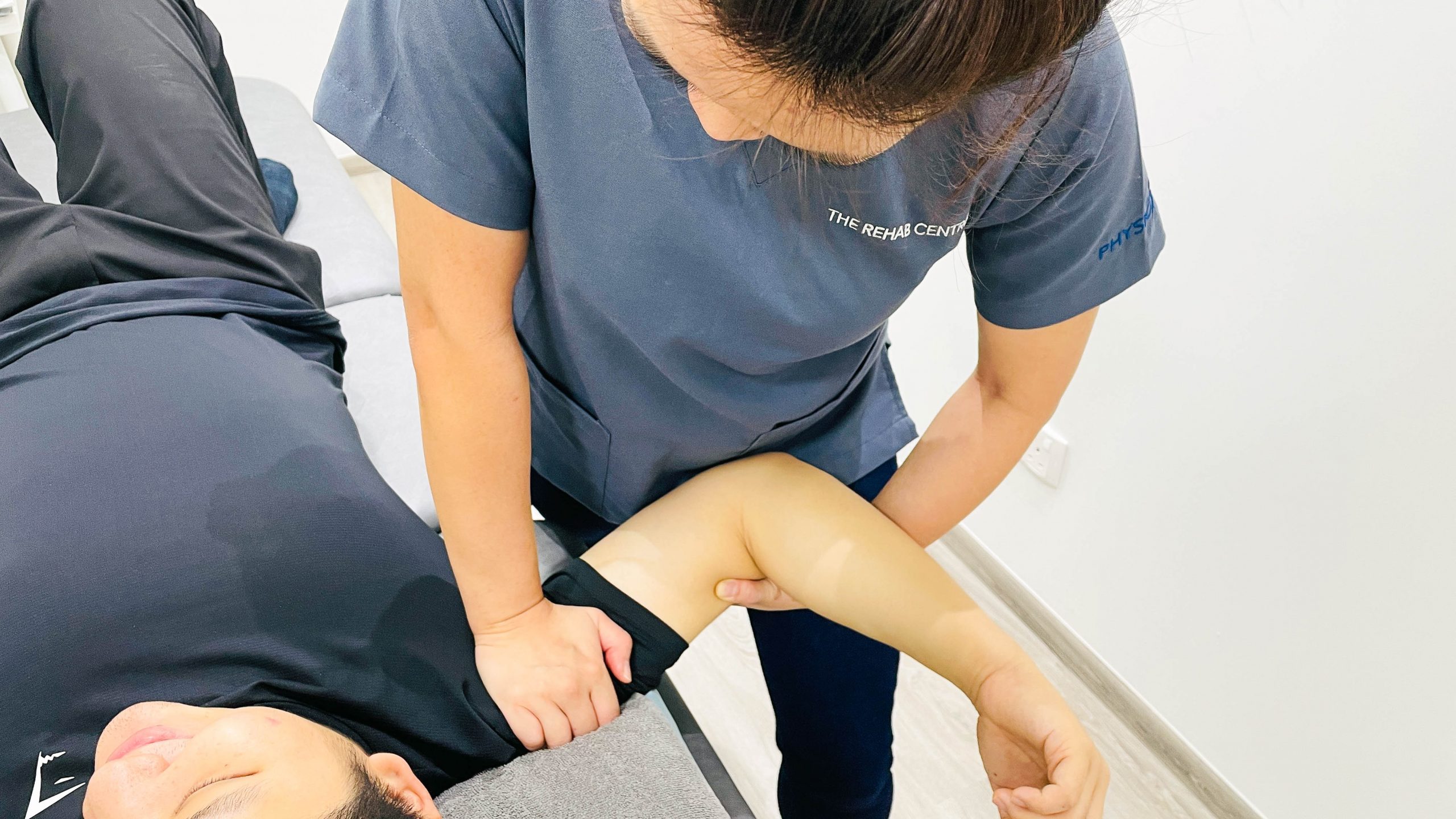 Common Shoulder Injuries & Shoulder Pain Causes
Regardless of your shoulder injury, our team will work to get to the root cause of your pain. The good news is most shoulder pain does not require surgery or extreme intervention. Many shoulder issues and pains can be rehabbed through Physio treatment.
Frozen Shoulder Contracture Syndrome
Frozen shoulder contracture syndrome refers to pain and stiffness in the shoulder joint. Signs and symptoms tend to appear slowly, may worsen over time, and usually resolve within a few years at most. The majority of shoulder pain can be diagnosed as frozen shoulder contracture syndrome, and can be treated in a straightforward manner.
Bursitis
Bursitis usually occurs when the small fluid-filled sac supporting the shoulder joint is inflamed or irritated. Symptoms can include pain on the tip of the shoulder, pain when rotating your arm, or pain when lying on the shoulder.
Rotator Cuff Tear
A rotator cuff tear often occurs due to repeatedly performing an overhead motion – whether on the job or during sports. A tear may require surgery, but good function can be achieved through non-operative interventions, too.
Rotator Cuff Tendonitis
Rotator cuff tendonitis occurs when your shoulder's tendons are overused or injured. Common symptoms can include pain that radiates from the front of the shoulder to the side of the arm, pain when throwing a ball, and sudden pain when activating the shoulder.
Tailored Shoulder Rehabilitation Programmes
Once we've identified the root of your shoulder pain, our Physiotherapists will devise a customised treatment and rehabilitation programme to help you decrease pain and improve shoulder function, so you can get back to doing what you love.
Common Treatment for Shoulder Pain
Assessing for Deficits. Orthopaedic special tests are often unable to tell what area of your shoulder is affected, and unhelpful in advising for or against surgery. We manually assess shoulder deficits to identify the source of your pain.
Strengthening Deficits. Once the root cause has been identified, we focus on strengthening your deficits.
Manual Therapy. Manual therapy for frozen shoulder contracture syndrome involves massaging the joint and mobilising the soft tissue around it, to both relieve pain, improve range of motion, and increase shoulder strength.
Assurance of the Pain.
Management of the Pain.

Gradual Rehabilitation Progression: We'll spend at least 3 months guiding you through functional activities, including open-chain, closed-chain, precision, and "chaotic" activities. The goal is to exceed your functional expectations.
Lifestyle Factors: We'll spend time addressing any potential lifestyle factors like smoking, nutrition, sleep, and stress that could be aggravating your shoulder. There may not be a "cure," so special attention to lifestyle combined with a range of whole-body exercises and activities will be the best solution to managing your pain long term.
Other Management Options: If our approach doesn't result in some alleviation of pain and increased function – or if the condition worsens – we'll consider other management options. But only after we've discussed potential harms and benefits.
Physiotherapist Derek is caring and professional. Progress of my improvement was constantly updated for me to have a good closure with my surgeon on my shoulder operation condition. Exercises were directed to strengthen my day to day activities and pictures to show how the exercises to be done were also posted to me. Thanks Derek, with your help, I can recover faster than expected.
– Henry Chew
I injured my right arm and shoulder during a badminton game, and have been suffering the pain and numbness for almost two months. Fortunately, through a referral, I met Dr Derek. I have attended the physio for 3 times and amazingly, I can resume my routine sport badminton again. The pain and numbness is gone, thanks to his patiences, guidance and care.
– Vivian Hoi
Derek's skill in manual therapy has helped in relieving some of the pain in my shoulder and neck. He was patient in explaining to me the science behind the pain caused by my injuries. I saw him on 2 occasions, once when I had ankle injury and more recently for a shoulder/neck injury.
– Kathleen Chew
Yi Ching comes highly recommended. She is warm, friendly and most importantly precise in her assessments. She provided effective advice and support, addressing the concerns that I had.
– Lynette La'Brooy
Your Trusted Physiotherapy Partner



8+ EDUCATIONAL TALKS GIVEN ANNUALLY

12 YEARS AVERAGE EXPERIENCE
Three Convenient Locations
Recover to Your Fullest Potential