Cancer and its treatment is known for having adverse physical and psychological side effects. More often than not, cancer management is focused on managing the cancer itself and its related toxicities, or side-effects.
Some of the common concerns that cancer patients often relate to include:
Lost of self-esteem and motivation (i.e. due to hair loss or scarring)
Fatigue and weakness
Loss of mobility
Responsibilities and family burden
Of the above factors, fatigue is a significant factor and it takes a toll on your physical and mental wellbeing. However, the effects of cancer related fatigue can be managed through movement and exercise!
What is the Cycle of Fatigue?
Cancer related fatigue is a very common phenomenon among cancer patients. It can come in various forms, be it physical, emotional or mental. The following image explains the relevant phases in the Cycle of Fatigue.
This type of fatigue can be ongoing and persist even after treatment. Even though it may sound counterintuitive, getting up and moving can actually help to break the cycle of fatigue. Furthermore, the American Medical Association's (AMA) suggests that exercise therapy should be prescribed as first-line treatment for cancer patients.
What is exercise in cancer care?
The Clinical Oncology Society of Australia (COSA) recommends that people with cancer should aim to achieve two to three resistance exercise sessions each week involving moderate to vigorous intensity exercises targeting major muscle groups. For instance:
At least 150 minutes (i.e. three to five times a week) of moderate-intensity
OR 75 minutes of vigorous-intensity aerobic exercise a week (i.e. 2 times a week, 2 sets of 15 reps on major muscle groups).
The American College of Sports Medicine (ACSM) provides an evidence based framework for exercise testing, prescription and its outcome on cancer survivors. There is strong evidence supporting the effectiveness of exercise on various side effects and symptoms of cancer.
The table below shows the recommended exercise dosage for respective side effects of cancer treatment: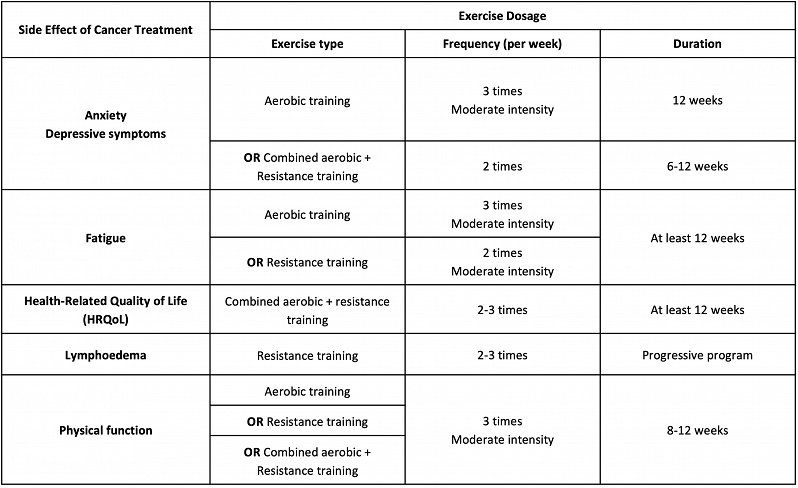 Examples of aerobic training include walking, running, swimming and cycling etc. Included in the exercise sheet below are several recommended exercises and the targeted muscle groups.
Click here to download Exercise Sheet
How can we help?
Physiotherapists at PhysioX can help to design an exercise program that is well suited to your condition after assessing and identifying potential barriers of exercise. They will ensure that the exercises are adequate for you and be certain to ensure that you are able to perform them safely!
Let's get moving! Don't let the diagnosis of cancer slow you down!
Book now or give us a call to schedule an appointment to see our Physiotherapist who will be able to partner you on your recovery and fight against cancer!
DISCLAIMER: These advice and exercises should not replace the need for a consultation with a Physiotherapist especially if your condition doesn't improve. Therapeutic exercise should be carefully selected to suit your condition.
References:
Blaney, J. M., Lowe‐Strong, A., Rankin‐Watt, J., Campbell, A., & Gracey, J. H. (2013). Cancer survivors' exercise barriers, facilitators and preferences in the context of fatigue, quality of life and physical activity participation: a questionnaire–survey. Psycho‐oncology, 22(1), 186-194.
Cormie, P., Atkinson, M., Bucci, L., Cust, A., Eakin, E., Hayes, S., … & Adams, D. (2018). Clinical Oncology Society of Australia position statement on exercise in cancer care. Medical Journal of Australia, 209(4), 184-187.
Patel, A. V., Friedenreich, C. M., Moore, S. C., Hayes, S. C., Silver, J. K., Campbell, K. L., … & Matthews, C. E. (2019). American College of Sports Medicine roundtable report on physical activity, sedentary behavior, and cancer prevention and control. Medicine and science in sports and exercise, 51(11), 2391.
Filed under: Cancer